Home » Featured, Food
Spring clean your liver with this nutrient dense green smoothie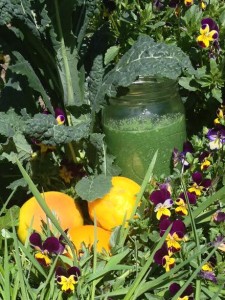 Thanks BioBalance New Zealand for your partnership on this article.
by Kiwi nutritionist Linda Ross
As the land starts to thaw and the sap begins to rise, humans and animals alike also begin to emerge from the stillness of winter to the vibrant new growth and active creation of spring.
In Chinese medicine, springtime corresponds with the liver. Our liver's main role is to remove the toxins we eat, breathe, absorb and produce in the body. These days there are many things that the body recognises as a toxin, leaving our liver overwhelmed and sluggish. This greatly affects our health.
Each spring I like to help my liver out with a cleanse. One of my favourite cleansing tools is a nutrient-dense and easily absorbed Green Smoothie that combines boosting superfoods with seasonal, local and ideally organic produce…
Spring Smoothie
In a blender add:
3-5 stalks kale
Small handful parsley
1 cup coconut water (or clean water)
Blend well.
Add:
1 apple – skin on
1 peeled orange or any citrus
1 peeled lemon
1 banana
3 brazil nuts, soaked overnight
½ cup chia/prune jelly (soak 2 tbsp BioBalance Certified Organic Chia seeds and 3 prunes in ½ cup water overnight)
1 tsp BioBalance Certified Organic Spirulina Powder
1 tsp BioBalance Certified Organic Maca Powder
You may need to add a little water.
Blend again.
Enjoy and Be Nourished!
Our ancestors lived by the cycles of the moon and the seasons. They hunted, grew and foraged for what thrived naturally throughout the year. Eating in season allows us to keep connected to nature and tradition, and to receive the most nourishment possible from our food.
This year, alongside my personal "Wholefood Spring Cleanse", I will be sampling a new Herbal Detox Programme. I'll let you know how it went after the launch next month.
About Linda Ross
With real food as her ally and inspiration, Linda Ross transformed her own life and health. Through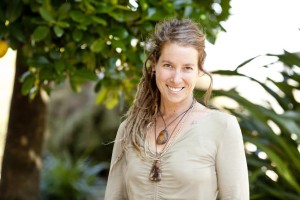 her personal experience, understanding and a wealth of knowledge she is committed to supporting others discover their own healthfulness. As a qualified Chef and foody advocate Linda travelled the world before graduating from the "Seven Bowls School of Nutrition, Nourishment and Healing" as an Integrated Clinical Nutrition Therapist and Nourishment Coach. Upon returning to Aotearoa, NZ she founded "Eartheart Nourishment" and is currently based in Golden Bay. Her nurturing, earth-centred and wholistic approach weaves together modern nutrition science, traditional food wisdom, plant medicine and the psychology of nourishment. Check out her website www.eartheartnourishment.co.nz for more information.
GD Star Rating
a WordPress rating system
GD Star Rating
a WordPress rating system