Home » Blog
Wondrous Wednesday: give thanks for your strange and wonderful true self
Submitted by Charlotte on October 14, 2015 – 4:00 am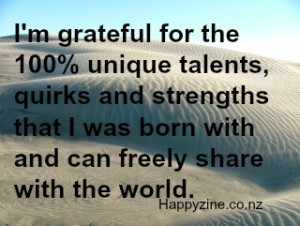 "There's no one like you, you know?" My Dad used to marvel at this as he tried to drum into me that I could do anything I wanted with my life, and I was utterly special and unique.
But … I would wonder … what can I do with my love for talking, singing, books, dogs, food, swimming, trees, old people, and sunbathing?
I know now – the answer is to live. Just live and enjoy the moments on the grass beneath the sun with friends, enjoy the dog cuddles, find the old people and engage them in conversation, bake joyously, and sing like a gospel singer at every opportunity. I think a life where we can explore and experience our unique passions as often as possible is a life well lived. So today, give thanks for your unique passions by relaxing and enjoying them, because they make up YOU. And as my Dad used to say 'There's no one else like you, and that's a miracle."
Move towards your unique dreams on our upcoming online course Power of the Positive.
GD Star Rating
loading...
GD Star Rating
loading...