Home » Happiness, Uncategorized
A spoonful of inspiration and a unicorn or two will keep the doctor at bay
Submitted by Charlotte on October 26, 2015 – 9:07 pm
Happyzine founder Charlotte Squire explains why positive inspiration is as important as yoga class and wheatgrass shots.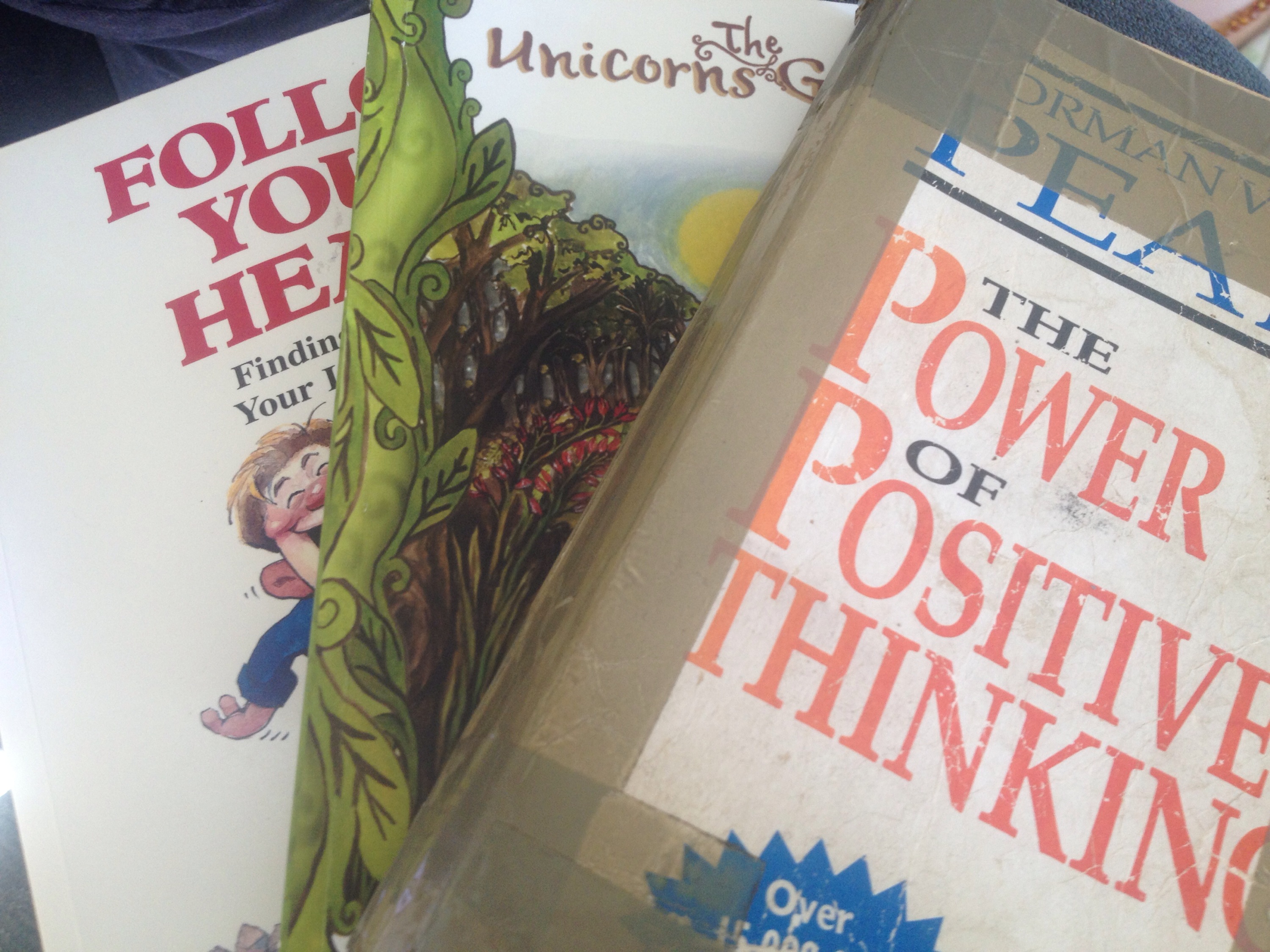 Last night I shared my bed with a cartoonist, some unicorns, and a very optimistic Christian.
The cartoonist was Andrew Matthews, best selling author of the book I keep beside my bed 'Follow Your Heart – finding purpose in your life and work.' The unicorns came from the new book 'The Unicorn's Garden' by Annabelle Edmond. And the optimistic Christian was the best selling late Minister Norman Vincent Peale via my battered old copy of his book 'The Power of Positive Thinking.'
As avid believer in the power of positive thought, I'm big on keeping inspiring books nearby to randomly dip into, especially last thing at night and as soon as I wake.
It's like having the authors themselves right beside me in their pajamas to offer wise and soothing advice over a hot chocolate.
This mornings 'chats' yielded the following useful advice:
The cartoonist was very down to earth and full of practical advice about following my heart. He said a life where we follow our heart isn't necessarily easier, and contrary to popular myth it doesn't guarantee wheelbarrows of cash, but it does lead to a life full of purpose and happiness.
The unicorns told me to remember that everyone experiences life differently, so it was best to relax and go with the flow despite not always understanding where it's taking us.
And the lovely Christian man insisted there was a relationship between emotional well being and our health. He gave an example of a young lady who was to enter into an arranged marriage but came down with a cold every time she met with her fiancé. Thankfully the marriage never happened. Ok that book was written in 1953.
Each of my book friends help me maintain my mojo, and at times they help me reclaim it. We know it's best to fill our plates with fresh organic salad that was harvested at dawn by a local grower we personally met. We know at least half an hours exercise per day is wise, and best if it includes some cardio. The same applies to our minds – feed them with positivity daily and you will cultivate a happier, healthier life. Why? Because whatever you focus on, you will find more of in your life. Try the red car test, think about buying a red car and suddenly you're noticing them everywhere. Give it a whirl yourself and see what happens.
Now I'm off to spend some time with my unicorns.
Later.
Charlotte Squire
Charlotte Squire is the founder of Happyzine.co.nz the Kiwi positive news website. She is running the online spring course Power of the Positive, starting Monday November 2nd and running for 21 days.
GD Star Rating
loading...
GD Star Rating
loading...