Home » Community, Featured
New national Happyzine Talks kick off in Golden Bay
Submitted by Charlotte on October 27, 2015 – 2:35 pm
A third generation farmer investing heavily in sustainability, the president of national body Deaf Aotearoa, and a senior zen student offering Meditation for Mums classes are amongst eight Golden Bay movers and shakers speaking at Happyzine Talks soon.
Founder of the solutions focused news website Happyzine.co.nz Charlotte Squire says the event is intended to draw people out from "behind their screens" to meet each other and celebrate inspiring community and environmental projects happening in Golden Bay.
"I've been working on Happyzine for eight years, publishing thousands of articles about inspiring people and projects. I'm at the point now where I want to help celebrate our inspiring people face to face, as well as online," she said.
Ready to claim that beautiful life you've been dreaming of? Join our spring online course Power of the Positive. It's easy fun and it only costs $52.
Nine speakers will each talk for six minutes, holding one prop that they're able to carry.
Charlotte said speakers include carbon finance entreprenuer Dr Weaver, who is "saving forests world wide" and senior zen student and meditation guide Jo Campbell who will introduce her new project Meditation for Mums.
Tasman District Council education and partnerships officer Claire Webster will talk about her mission to support natural eco systems that are impacted by people as they earn their livelihoods in a role that she says"marries the community and the environment".
Owner of the historic Langford Store Sukhita Langford will share her future vision for the iconic shop.
Young playwright Jonathan Martin will share a story of how and why he wrote his recent successful play.
Dairy farmer Corrigan Sowman will talk about the huge commitment he and his family share in treading lightly on their land.
Puramahoi Fields co-owner Shane Butland will talk about life running a one of only two community supported agriculture veggie supply businesses in New Zealand.
President on the national board for Deaf Aotearoa Incorporated Robert Hewison will talk about his work in Wellington advocating for the Kiwi deaf community and working with the disability sector.
New manager of the Golden Bay community organic gardens will talk about bringing community into the gardens.
Charlotte said she would also be introducing Happyzine and inviting people to become pay-what-you-can-afford members of Club Happyzine.
Happyzine Talks is happening Thursday 12th November at eight pm. Tickets are available from the Mussel Inn.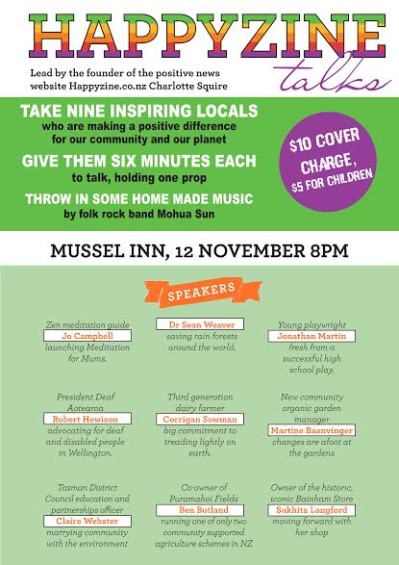 GD Star Rating
loading...
GD Star Rating
loading...
Tags: Community, happyzine talks