Home » Food
Try a locally grown, organic bitter sweet spring salad with a cranberry, cumin and lemon dressing
Submitted by Charlotte on October 29, 2015 – 8:03 am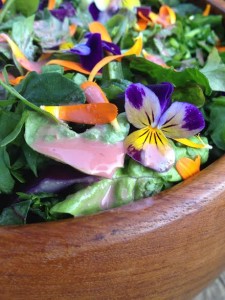 Thanks BioBalance New Zealand for partnering up with us.
by Kiwi nutritionist Linda Ross
It's spring and the garden is abundant with green leafy things to eat!
As I nutritionist I have noticed many people with an aversion to greens and the flavour of bitter. While young, lots of kids decide they don't like green foods, love white sugary empty foods, and often enter into adulthood holding onto this belief. The flavour of bitter (whose opposing and complementary flavour happens to be sweet) is often described as unpleasant, sharp or disagreeable; it's not surprising that young mouths shy away!
Science tells us that humans come equipped with a protective function that recognises potentially poisonous plants by their commonly bitter flavour. Maybe the sweet, sugary world we live in heightens our sense of the bitter-flavoured foods we eat, triggering our innate protective function unnecessarily, affecting our taste for greens?
Leafy greens are essential when it comes to improving your health. They are royalty in the vegetable kingdom and highly nutrient-dense. The flavour of bitter stimulates and assists healthy digestion (foundational to all areas of health) and has a key action in assisting liver detoxification – perfect for springtime.
Organic, locally grown salads are my favourite way to experience leafy greens.
Build your salad with mostly mild leaves like lettuce, kale, spinach, chard and chickweed. Then add a sprinkling of the stronger medicinal greens, like dandelion, puha, rocket and plantain. I top that with whatever other veggies are seasonal (carrots, beets, chives, etc), some sprouts, herbs like parsley (another super green) edible flowers and then of course the dressing, often a little sweet to complement those health-promoting bitter greens.
For a complete meal, add a little good fat and some protein like avocado or soaked nuts and some lightly pan-fried coconut tamari tempeh strips!
Try this cleansing, raw and nutritious pink spring dressing on your next salad.
Cranberry, Cumin & Lemon dressing
2 tbsp hulled tahini
Juice of 1 lemon
¾ tsp Bio Balance Certified Organic Cranberry Cleanse Powder
(This cranberry powder supports urinary and liver cleansing and is a great addition to your spring cleansing. It's really yummy in your smoothie, mixed with water, or added to your water kefir or kombucha).
¼ tsp cumin powder
¼ cup olive oil
¾ cup water
¼ tsp sea salt
About Linda Ross
With real food as her ally and inspiration, Linda Ross transformed her own life and health. Through her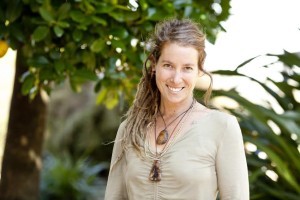 personal experience, understanding and a wealth of knowledge she is committed to supporting others discover their own healthfulness. As a qualified Chef and foody advocate Linda travelled the world before graduating from the "Seven Bowls School of Nutrition, Nourishment and Healing" as an Integrated Clinical Nutrition Therapist and Nourishment Coach. Upon returning to Aotearoa, NZ she founded "Eartheart Nourishment" and is currently based in Golden Bay. Her nurturing, earth-centred and wholistic approach weaves together modern nutrition science, traditional food wisdom, plant medicine and the psychology of nourishment. Check out her website www.eartheartnourishment.co.nz for more information.
GD Star Rating
loading...
GD Star Rating
loading...