Home » Community
Wheelchair warrior proves attitude is everything
Submitted by Charlotte on November 2, 2015 – 8:54 pm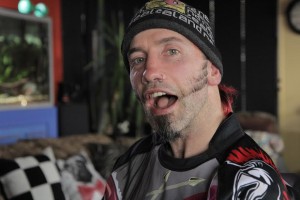 Attitude Awards
Wheelchair warrior proves attitude is everything
Nick Chisholm (42) is setting high goals and smashing them, despite being 'locked-in' his own body for 15 years.
The Dunedin man is a finalist in the Spirit of Attitude category in the 2015 Attitude Awards. The national awards celebrate the excellence and achievements of Kiwis with a disability.
In September 2000 Nick was injured during a game of rugby which resulted in a serious brainstem injury. When he awoke he could not move, talk, breathe or eat unaided.
Nick has locked-in syndrome: a condition where he is mentally aware and alert, but his body and most of his facial muscles are paralysed. He requires 24 hour care and communicates with his eyes using an e-tran alphabet board.
But Nick is a rebel with a cause and has exceeded all expectations.
Once he was discharged from hospital, Nick made it his mission to build up his physical strength again – a tough ask when you have limited control over your body.
"When I first started at the gym I could barely move, now I am walking on the treadmill without even using a walking frame," he says.
These days Nick spends three hours a day at Sky Fitness gym in Central Dunedin and has set his sights on body building. He won the New Zealand Wheelchair Body Building title at the end of last year up against competitors who, unlike him, have full upper body movement.
He's retained the title for the last two competitions and is working hard to defend it again in the next competition at the end of October.
Nick credits his training for keeping him mentally well and even helping him find love. He met his wife Nicola online and they were married last year.
"I would never have met her if I hadn't made enough gains in the gym to move my arms and use the computer," says Nick.
The positive effect of exercise on Nick is undeniable and he's keen to help other people with disabilities reap the same benefits (love not guaranteed).
Nick founded Wheelchair Warriors with his trainer Shane Waldron. The programme helps people with disabilities to achieve their own rehabilitation and recovery, nutrition and most importantly their self-esteem. The owner of Sky Fitness, Phil Chaney, offers a free gym membership for those who take part which keeps Wheelchair Warriors affordable and accessible.
Nick also supports other players injured on the rugby field. He and Shane came up with the idea of a ten-a-side rugby tournament to raise money for the NZRF Injured Players Fund. The inaugural Spartans tournament in January this year raised over $11,000 and Nick has plans for a repeat in 2016.
In the spirit of Attitude, Nick hasn't let physical barriers stop him from setting high goals, doing all he can to achieve them and helping others along the way. His next challenge is to walk up Baldwin Street (the world's steepest residential street) using only a walking frame.
"I love my life so much and can't imagine it would be anywhere near as great if I were able-bodied," says Nick.
Nick will find out if he has won at a black-tie gala on World Disability Day, December 3 at Auckland's Viaduct Events Centre.
There are eight categories in the 2015 Attitude Awards: Courage in Sport, Spirit of Attitude, Making a Difference, Artistic Achievement, Youth, Junior, the Attitude ACC Employer Award and Sport Performer of the Year. The overall winner of the Attitude ACC Supreme Award is selected from the category winners and a People's Choice winner and Hall of Fame inductee are also announced on the night.
Attitude Awards Trustee Dan Buckingham, a member of the elite national wheelchair rugby team the Wheel Blacks, says: "It's always an exciting time here at Attitude as we find out who the finalists are and count down to the big night. The Awards reflect what Attitude is all about – sharing stories that prove people with disabilities can overcome adversity and achieve greatness, whether that be big or small."
"We thank our fantastic family of sponsors who allow us to present the Attitude Awards year on year. Collectively we are changing people's view of what is achievable when someone lives with a disability."
Dan encourages everyone to visit AttitudeLive.com in early November to see short films of the finalists and to vote for the person most deserving of the 'People's Choice Award'.
The Spirit of Attitude Award is sponsored by Drake Medox. Gay Barton, National Manager for Drake Medox New Zealand and Australia says Drake Medox is proud to again be supporting the Spirit of Attitude Award.
"Despite their own personal challenges and disability, the finalists have shown us that virtually nothing is impossible if you just put your mind to it and maintain a positive attitude. We congratulate all nominees for their extraordinary and inspirational achievements."
Other sponsors supporting the Awards include: ACC, Westpac, Ministry of Health, Barfoot & Thompson, IHC Foundation, Air New Zealand, Lion Foundation, Invacare and the Wayne Francis Charitable Trust.
Chief Executive of ACC Scott Pickering says ACC is proud to be principal sponsor of the awards for the eighth year, including sponsorship of the Attitude ACC Employer Award and the Attitude ACC Supreme Award.
"The Attitude Awards shine a light on New Zealand's unsung heroes. At ACC we're delighted to support the Awards and to acknowledge New Zealanders who live life to the fullest, achieve their goals and provide role models to our community."
For tickets to the Attitude Awards gala evening on December 3 contact Sue Wales-Earl at sue@attitudeawards.org or phone 09 378 1564.
For the latest on the Awards and the Attitude TV programme:
Like us on Facebook
https://www.facebook.com/attitudetv
Follow us on Twitter
https://twitter.com/attitude_tv
Watch previous Awards footage at www.AttitudeLive.com
GD Star Rating
loading...
GD Star Rating
loading...