Home » Community
'Beautiful democracy' team crowdfund for doco
Submitted by Charlotte on November 10, 2015 – 4:57 pm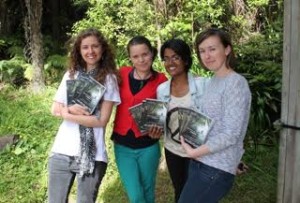 Beautiful Democracy is a short documentary celebrating three groups of artists and activists who are working to defend democracy in New Zealand, by stimulating debate around the Trans-Pacific Partnership Agreement (TPPA). The TPPA is a huge trade and investment deal, which our politicians are working to pass into law secrecy -effectively bypassing the democratic process. However, over the last 6 months in particular New Zealand has seen a massive movement of people growing, people who are working in various creative ways to defend democracy in New Zealand. We are following three groups and individuals who are part of this movement: A choreographer called Geoff Gilson who is creating a huge interactive performance about the TPPA and its potential impact on New Zealand. A group of young activists called 'Show Us Ya Text' are calling on the government to release the text and have it properly debated before it is passed into law. Finally, the Cut Collective a collective of graffiti artists and photographers who have sprayed a wall in Auckland with a design based on the TPPA.
You can get involved and help us defend democracy in New Zealand.
The pledgeme campaign is supported by a bunch of wonderful local businesses, which means that by supporting us you can choose from a range of wonderful, local and sustainable rewards.
GD Star Rating
loading...
GD Star Rating
loading...
Tags: democracy