Home » Youth
Course to support young Kiwis to explore leadership, sustainability and social entrepreneurship runs for second year
Submitted by Charlotte on November 12, 2015 – 4:29 pm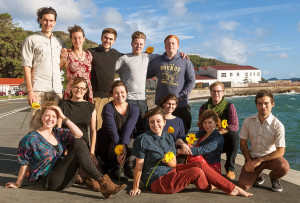 An innovative new education programme is running for it's second consecutive year in the former Shelly Bay Air Force Base barracks on the Miramar Penninsula in Wellington.
Orientation Aotearoa is an eight month, hands ­on education programme for young New Zealanders aged 18­ to 25 to explore leadership, sustainability and social entrepreneurship. Run as a charitable trust, the organization will begin its next 8 month programme on February 28th, 2016.
"Orientation Aotearoa provides the opportunity for young New Zealanders to take a gap year in New Zealand, rather than seek self­knowledge and adventure by travelling overseas or jumping into uni," said co­founder Lucy Carver, from the Orientation Aotearoa organizing team.
"Many young people are under pressure to choose a life path before they are ready. According to the Ministry of Education, only 40% of tertiary students completed their studies 5 years after commencement.
This suggests many young people are struggling to make the decision that is right for them.
"Our programme is designed to give students space and time to figure out how they tick and how they might contribute meaningfully to the world.
"Orientation Aotearoa teachers will help situate participants in our local and global context, exploring the challenges and opportunities of our time. They will provide participants with inspiration and a range of skills for creating a more just and sustainable world."
Ms Carver said that Orientation Aotearoa was modeled on the successful Youth Initiative Programme (YIP) in Sweden. She noted that while YIP had an international focus, bringing in collaborators and students from around the world, Orientation Aotearoa was about deepening connections within New Zealand; all of the OA teachers and most of the students are from New Zealand.
"The benefit of the New Zealand focus is that the connections and learning can continue long after the eight month course finishes," said Ms Carver.
"So many of our young people go overseas to never come home. We've labeled the phenomena the 'brain drain'. OA is an antidote."
Ms Carver said that the team are excited to have opened applications for the 2016 programme, and to be offering the opportunity for a second year running to 20 aspiring changemakers from around New Zealand. They are also making the most of the final two months of the 2015 programme, with a participant organised public hui set for 13th­15th November, and many other public events on offer before graduation on December 4th.
GD Star Rating
loading...
GD Star Rating
loading...