Home » Featured, Food
Try making this super hydrating chia rejuvenation drink
Submitted by Charlotte on November 22, 2015 – 9:20 pm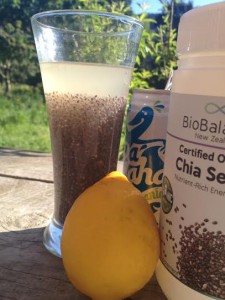 by Kiwi nutritionist Linda Ross
Thanks BioBalance New Zealand for partnering up with us.
Spring is beginning to swell into long, warm and inspiration-filled days…summer must be just around the corner.
It's even more important now to stay hydrated. For some of us, water (the mother of all hydrating drinks) can be boring, and possibly doesn't replenish our body of those essential mineral electrolytes lost throughout the day.
When you're working hard, playing sport and generally using your body a lot, sweet and delicious coconut water (dubbed "nature's sport drink") is the perfect beverage to keep you functioning optimally. Coconut water is said to be very similar to our own body's blood pH and has even been used for plasma infusions. It is incredibly nourishing and packed full of our essential electrolyte minerals – calcium, magnesium, phosphorus, potassium and sodium. It's high in antioxidants and enzymes, and a good source of B vitamins. These are just a few of coconut water's amazing health benefits.
Also full of health benefits are chia seeds. They're high in essential fatty acids and protein, vitamins A, B, E, and D, are mineral rich, high in antioxidants and so much more. They are best consumed already rehydrated into a gel and added to your porridge, smoothies, dressings, baking, puddings, crackers, and of course, drinks. Just one tablespoon of chia seeds has more calcium than a glass of milk, more omega-3s than salmon, and more antioxidants than blueberries.
Chia, which means strength in the Mayan language, was used by the Native Americans for energy. The seeds can absorb more than 12 times their weight in water. Because of this, chia can prolong hydration, help to retain moisture and regulate the body's absorption of nutrients and body fluids, including electrolyte balance.
My recipe for today combines coconut water with chia's little super seeds to bring you a super-hydrating, really yummy drink that's a bit fun too – perfect for the whole family!
Homemade Chia Rejuvenation
350ml coconut water (I love Da'Maha)
1 tbsp Bio Balance Certified Organic Chia Seeds
Juice of ½ citrus (lemon, orange, grapefruit)
Make the night before to allow time for the chia to absorb and expand. Swirl and sip.
Enjoy and be nourished!
About Linda Ross
With real food as her ally and inspiration, Linda Ross transformed her own life and health. Through her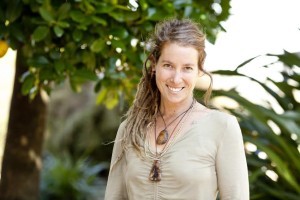 personal experience, understanding and a wealth of knowledge she is committed to supporting others discover their own healthfulness.  As a qualified Chef and foody advocate Linda travelled the world before graduating from the "Seven Bowls School of Nutrition, Nourishment and Healing" as an Integrated Clinical Nutrition Therapist and Nourishment Coach. Upon returning to Aotearoa, NZ she founded "Eartheart Nourishment" and is currently based in Golden Bay.  Her nurturing, earth-centred and wholistic approach weaves together modern nutrition science, traditional food wisdom, plant medicine and the psychology of nourishment. Check out her website www.eartheartnourishment.co.nz for more information.
GD Star Rating
loading...
GD Star Rating
loading...
Tags: Food