Home » Community, Featured
Waiheke girl a finalist for national award
Submitted by Charlotte on November 26, 2015 – 5:20 pm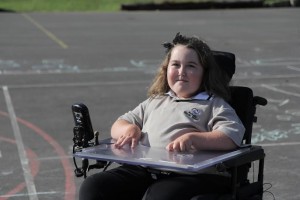 Maija Fredrichberg describes herself as 'a normal 10-year-old girl in a wheelchair', but her positive spirit and bubbly personality make her so much more than that.
The Waiheke Primary School student is a finalist in the Junior category in the 2015 Attitude Awards. The national awards celebrate the excellence and achievements of Kiwis with a disability.
Maija has Spinal Muscular Atrophy, a degenerative neurological condition. It affects the nerve cells in Maija's spinal cord and means that she is unable to walk and her muscles are extremely weak.
When she was seven-years-old Maija underwent a risky surgery to straighten her spine. It was curved to one side and had begun to seriously affect Maija's health. She was having trouble breathing during the night and had to be admitted to Starship several times with pneumonia.
Two telescopic metal rods were inserted into Maija's back. Every three months Maija travels to Auckland City for the rods to be lengthened so they can keep up with her as she grows. The rods are lengthened one at a time using magnets.
"It's a big risk, but I took it and it all turned out well," says Maija.
Now in her final year of primary school, Maija has a confident outlook on her life with a disability.
She dreams of being a popstar, but if that doesn't work out her fall back job is to work with computers and apps as she really enjoys playing computer games.
Maija also has a passion for writing. She likes to write fantasy stories and loves doing writing at school. She's a member of the Waiheke Primary Kapa Haka group and finds creative ways to participate in PE class in her motorised wheelchair.
Maija has received recognition from her teachers and her classmates for being a positive role model, showing kindness, spreading happiness and trying new things.
The challenges aren't over for Maija yet, but her positivity is bound to help her through.
Attitude Award winners are announced at a black-tie gala on World Disability Day, December 3 at Auckland's Viaduct Events Centre.
There are eight categories in the 2015 Attitude Awards: Courage in Sport, Spirit of Attitude, Making a Difference, Artistic Achievement, Youth, Junior, the Attitude ACC Employer Award and Sport Performer of the Year. The overall winner of the Attitude ACC Supreme Award is selected from the category winners and a People's Choice winner and Hall of Fame inductee are also announced on the night.
Attitude Awards Trustee Dan Buckingham, a member of the elite national wheelchair rugby team the Wheel Blacks, says: "It's always an exciting time here at Attitude as we find out who the finalists are and count down to the big night. The Awards reflect what Attitude is all about – sharing stories that prove people with disabilities can overcome adversity and achieve greatness, whether that be big or small."
"We thank our fantastic family of sponsors who allow us to present the Attitude Awards year on year. Collectively we are changing people's view of what is achievable when someone lives with a disability."
Dan encourages everyone to visit AttitudeLive.com to see short films of the finalists and to vote for the person most deserving of the 'People's Choice Award'.
The Junior Award is sponsored by Barfoot & Thompson. Peter Thompson, Managing Director, says Barfoot & Thompson is humbled to have the opportunity to be part of the Attitude Awards.
"As a family run business with family values it is an honour for us to again be involved with such an inspiring event. We would like to wish all finalists the very best of luck for the Junior Award. Just remember, in our eyes, you are all winners."
Other Sponsors supporting the Awards include: ACC, Westpac, Drake Medox, Ministry of Health, IHC Foundation, Air New Zealand, Lion Foundation, Invacare and the Wayne Francis Charitable Trust.
Chief Executive of ACC Scott Pickering says ACC is proud to be principal sponsor of the awards for the eighth year, including sponsorship of the Attitude ACC Employer Award and the Attitude ACC Supreme Award.
"The Attitude Awards shine a light on New Zealand's unsung heroes. At ACC we're delighted to support the Awards and to acknowledge New Zealanders who live life to the fullest, achieve their goals and provide role models to our community."
Tickets to Attitude Awards gala evening on December 3 are now sold out, but the ceremony can be watched via livestream atAttitudeLive.com.
For the latest on the Awards and the Attitude TV programme:
Like us on Facebook
https://www.facebook.com/attitudetv
Follow us on Twitter
https://twitter.com/attitude_tv
Watch previous Awards footage at www.AttitudeLive.com
GD Star Rating
loading...
GD Star Rating
loading...
Tags: waiheke