Home » Blog
Solutions focus: How one French man is making a difference for disabled employees in Wellington
Submitted by Charlotte on December 8, 2015 – 4:15 pm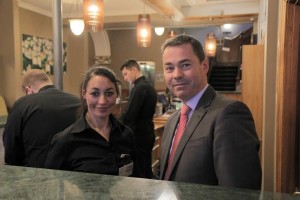 Happyzine founder Charlotte Squire talks emotive Sunday morning TV, brave disabled people reaching for more, and a French man changing New Zealand's employment culture.
If you had have turned up at my house last Sunday morning you would have found me sobbing over my cup of red bush tea.
I was watching the NZ Attitude Awards – where people with disabilities were celebrated for their achievements and success stories – and really, this situation was the perfect storm for me. You've got that moment of sweet recognition for the person who won the award, then there was that heartfelt music they played just after they called out their names, and combine it with a broken night's sleep due to my teething baby.  That's me.  Goneburger.
I was no stranger to the awards, having run many articles about these inspiring people over the past few months on my good news website Happyzine.  There was Cody Everson, who, just two years after breaking his neck was selected for the New Zealand Wheel Blacks.  There was the handsome, stubborn Nick Chisholm, who has been 'locked in' his body, nearly completely paralysed, for fifteen years after a rugby accident, and still managed to win a New Zealand wheelchair body building title and find true love. There was fifteen year old Salem Foxx who lives to dance, and through channeling his asperger's positively has gone onto  perform four times with the Royal NZ Ballet inspire people worldwide.
One able bodied man who stood out to me with his 'why not' attitude was Olivier Lacoua, General Manager of CQ Hotels Wellington.  He accepted the Attitude ACC Employer Award for his commitment to employing staff with disabilities.
Earlier this year I discovered CQ Hotels in Wellington when they launched New Zealand's first ever sign language restaurant. The menu includes NZSL symbols so diners can sign to order to order their meals and communicate with staff.
At the time Olivier said he wanted to change the perception that Deaf people were disabled, when in fact, they just spoke another language.
According to Deaf Aotearoa, as one of the country's official languages, NZSL is used daily by more than 24,000 New Zealanders and it became an official language in 2006.
The story was a hit and so was the restaurant.
"We were overwhelmed with the number of people coming to our restaurant.  We decided to make it permanent," he said.
Olivier began his mission to diversify employment about three years ago. Given that his native France businesses had to employ a person with a disability for every 20 employees he decided to bring in the same conditions in his Kiwi hotels. He got in touch with Workbridge (an employment agency for people with disabilities) and the journey began.
CQ now employs five staff members who have various disabilities. Two Deaf staff members were hired especially to assist with the launch of the New Zealand Sign Language (NZSL) menu and have stayed on in permanent positions.
"I think it's so important that employers start looking at other avenues when hiring staff. Often some very good, skilled employees miss out because of a small disability which doesn't reflect in their performance," said Olivier.
CQ was the first hotel in New Zealand to train its employees in NZSL. Employees continue to receive sign language training through Deaf Aotearoa programmes and CQ senior managers regularly attend disability awareness workshops.
Features in Olivier's hotels include vibrating and flashing emergency alarms, large number telephone keypads and computer keyboards, evac chairs and a mobility scooter available to guests free of charge. CQ has also developed six fully accessible hotel rooms at its Quality Hotel site, complementing the three rooms available at the Cuba St hotel.
At the Attitude Awards Olivier challenged more business owners and managers to do the same.
The longer I live the more I see the key thing that differentiates us all in life is not disability, colour or ethnicity but attitude.
I'll leave the last words to New Zealand Wheel Black Cody Everson, who had to change his attitude early on in life.
"I don't think life's over when you have an accident.  It's more of a beginning and it's what you do after it that really defines what sort of person you are.  That's what I've found.  I haven't let it stop me"
Charlotte Squire is the founder of Happyzine.
GD Star Rating
loading...
GD Star Rating
loading...