Home » Business, Featured
Submit your good news to Happyzine and you could win a twelve pack of Chia Drinks!
Submitted by Charlotte on December 13, 2015 – 9:30 pm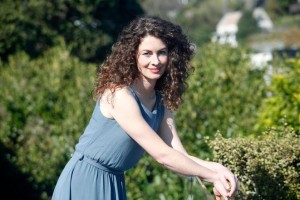 Do you want the good news or the good news?  Let's start with the good news.  We have a
new submit news
page on Happyzine.  This means – we want to hear about the good stuff that's going down in your 'hood?  Who's doing something awesome?  Tell us about your climate and people friendly projects, so we can inspire others to create amazing projects in their own lives!
Just to sweeten the deal, we have a pretty generous offering for you from Nelson based
Chia Drink.
 Just in case you haven't discovered these delicious, nutritious drinks yet, they're based around hydrated chia and seasonal fruits.  They began as a healthy 'real food' endurance sports drink, based on the foods of the greatest long distance runners – the Tarahumara Indians.
They're 100% natural, they're gluten and dairy free, began, with no added sugar, preservatives or artificial colours and they're pretty yummy.
Guess what?  We have one twelve pack per week of these gorgeous drinks to giveaway to one person who has sent us in good news from their community.  We need at least one image, and a little story from you, to enter you into the draw.  

DON'T BE SHY!  SUBMIT YOUR GOOD NEWS!

You can submit as many stories as you like, for every story that we publish, we'll enter you in the weekly draw one more time.
Happyzine caught up with founder of Chia Drink Chloe Van Dyke to ask her about taking the leap into business, her passion for chia seeds, and to get to know her just a little … 
 1. Can you remember the moment in the beginning you decided to go for it with Chia?
The first step was to take Chia to the local health shop (where I worked), organic shop, and supermarket. I didn't know if people would love or hate Chia, and it is still polarising. Creating something different is difficult, Chia pushes the boundaries of what people expect from a drink, but once we hit the cafe scene in Wellington I had the confidence to leave my day job and put my focus completely into Chia.
2. What got you so excited about chia seeds?

With Chia I wanted to create a drink with nutritional value. A lot of the 'health' foods currently available focus on what is not in them. It goes without saying that Chia will have no added sugar, preservatives, artificial ingredients etc, but what is not in your food cannot make you healthy because it is not there. The best it can do is not make you unhealthy. I wanted to make food a positive again, so with Chia my focus is what is in Chia – the nutrient value which directly contributes to health.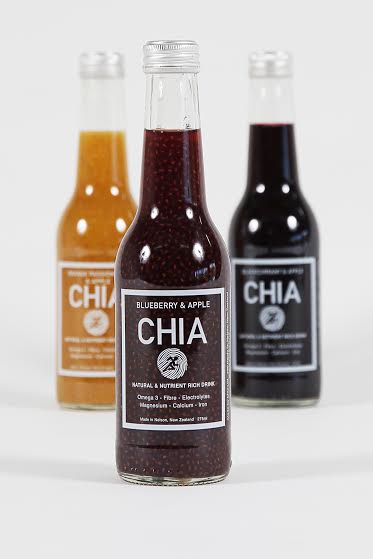 The chia seed was a great means to achieve this as not only is it rich in nutrients but it is rich in the nutrients that most of us tend to need more of in our diet – omega 3, magnesium, calcium, iron, electrolytes, antioxidants, fiber, and complete protein. Historically the chia seed has always been hydrated before use so it was the perfect ingredient for a drink.
3.  Can you tell me a little about your vision for the different needs your drinks meet eg I know you're focusing on endurance racers?
Our focus started as an endurance drink, something that could keep you going, train harder and recover quicker. My sister is a triathlete and my dad is a swimmer so Chia was first designed for them but it turns out that most people could do with a nutrient boost and Chia is suitable for kids, someone at the office, or an athlete.
4.  What's the best way to drink Chia? On it's own? Alongside something else?
However you like it. Most people take it straight but it is also nice swirled through yoghurt (coconut yoghurt and blackcurrant Chia is a winner) or it can be added to cooking as an egg replacement or to add nutrient value and flavour.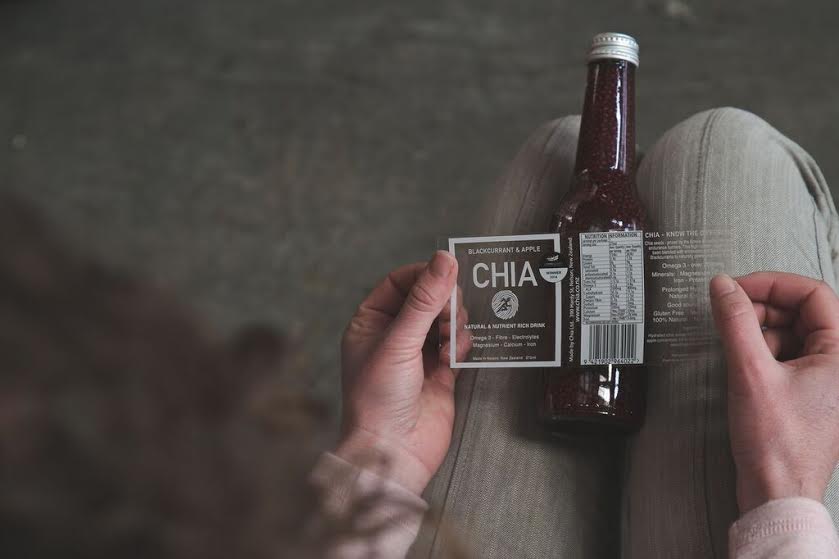 5.  Can you tell me a little about the type of person you are and your lifestyle?
The type of person who finds this sort of question difficult! I enjoy the outdoors, walking in the mountains, mountain biking, swimming in the river, having a garden, and having good friendships. I like that my work allows me to share a product that contributes to health and well being.
GD Star Rating
loading...
GD Star Rating
loading...
Tags: chia