Home » Featured, Youth
Innovative, global education project inspires children to make a difference
Submitted by Charlotte on January 5, 2016 – 12:56 pm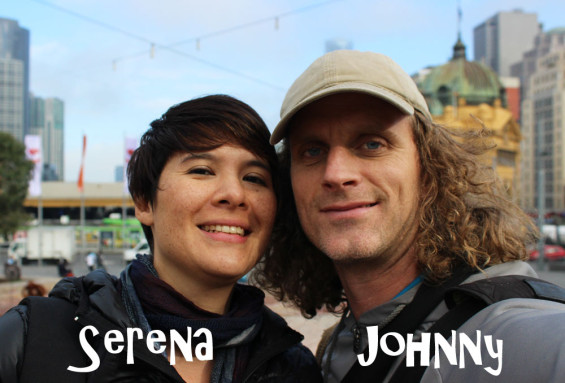 We have one three month membership (for up to three siblings) worth up to NZ$105.00 to give away to a member of our new Kea Group!
All too often, the problems of this world seem huge and our efforts too small to make a difference. When faced with wars, refugee crises, environmental crises, poverty and every other cause that crops up in the media, many people throw up their hands and think it's all too hard.
Digital Nomads John Leonard (Ireland) and Serena Star Leonard (New Zealand) are creating an education revolution that gives children confidence in their abilities to make a difference from a very young age with their innovative education project Travel Kids Club.
They have been travelling for 3.5 years now, through 26 countries filming short documentaries of people who make a difference. Their work has brought them to film in slums in Colombia, brothels in Nicaragua, an orphanage in Guatemala, development projects in Peru, Cambodia, Mexico & Bolivia, a social justice project in Australia, animal conservation projects in Ecuador and Costa Rica and in a prison in New Zealand… and many more!
Serena says: "We have found a common formula between each of these inspiring projects: someone decided to make a difference, to solve a problem and then they gathered a community to support it. It's not rocket science, but it can change a whole community, and potentially the way the world works.
In this day and age we can be impacted by a story of a little girl in a rural village in Cambodia. It can change the way we think about the world. These are the stories we share with the kids through our membership. We give them the opportunity to choose to help her go to school, to know her and help her even without meeting her, and then follow her progress over the months and years and experience the power of their choices… it's a magical opportunity."
About Travel Kids Club
Travel Kids Club www.travelkidsclub.com is designed to inspire children aged six to eleven about the exciting and wonderful world they live in, and to give them confidence that they can make a difference with their choices and actions.
Each month, members receive a package in the mail, including a stunning personalised letter packed full of stories, photos, drawings and adventures from faraway places. The letter is accompanied by stickers, posters, activities and a chance to choose between two age-appropriate causes to support with their membership.
 how children live in other countries
 words from new languages
 an understanding of different cultures, foods and traditions
 the wonderful animals of the world
 the inspiring work of charities and for-good projects
 simple geography
 an introduction to social and environmental causes
 a chance to make small choices that have a tangible positive impact
Each month $1 from each membership is donated to the charitable causes the children choose. As the membership grows, so does the ability to make a real contribution to these fantastic charities.
The intention of the club is to inspire children to be curious about the world, accepting of different people and cultures and confident that they are a vital part in shaping the future of everything that is important in this world.
About The Founders
John Leonard and Serena Star-Leonard are a husband and wife team who visit charity and for-good projects all over the world. Together they created the website www.fivepointfive.org and have filmed nearly 30 inspiring short documentaries in some of the poorest, toughest and most remote places on earth. They are both authors and film-makers and are committed to making a difference.
 To enter the draw email charlotte@happyzine.co.nz
GD Star Rating
loading...
GD Star Rating
loading...