Home » Featured, Happiness
How technology can improve your Happiness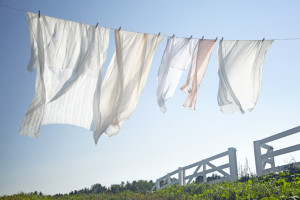 By David Laing
In my research for this article series, I asked my family what they thought about how technology could improve happiness. This led to a wide-ranging, and fascinating discussion about the definition of happiness, what makes us happy and related concepts. I plan to use this column to share some of our insights, and I'm looking forward to hearing your feedback and observations.
My mother, Jane, talked about her mother (my grandmother). Jane thinks that her mother's generation was the most deprived of the middle classes, because they were caught up in massive social changes. This was in England, during the immediate post-war period, when servants were no longer available – but neither were the domestic technologies that we all rely on today.
My grandmother used to wash everything – clothes, towels etc – by hand (sheets were sent to the local laundry). Wash day was Monday. It took most of the day to wash and feed everything through the mangle (very hard work). To make the most of the soapy water, the floors were washed, when the other washing was complete. By the end of the day she was physically and emotionally exhausted, barely able to communicate with the rest of the family.
By contrast, my mother (and everyone else) had a washing machine at home. Her only physical involvement was to load things into and out of the machine and to hang everything out to dry. The new technology relieved her of both the effort, and the time to do this chore.
Of course, Jane used other labour-saving devices at home too. While she managed a household of five (my father, and my siblings), she had far more free time and energy than her mother. Technology certainly had a positive impact on Jane's life compared with the previous generation. It also made her happier, because she was less tired, and more able to connect with her family.
Of course, it seems obvious that technology has a positive effect on happiness, both in terms of labour and time-saving. Is that always the case? In particular, does it hold true in our 21st century world of smart phones and tablets? In future articles, I'm going to explore more of the social impacts of technology, and how it can enhance happiness.
Information technology consultant David Laing is passionate about helping businesses to flourish by making the best use of their resources. He specialises in green IT. Find out more about David here.
GD Star Rating
loading...
GD Star Rating
loading...