Home » Food
Rock-star market gardeners to visit NZ on six figure farming tour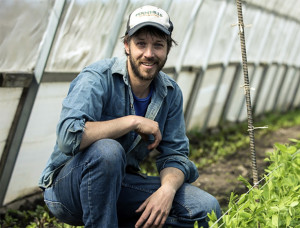 A teaching tour from Canadian rock-star market gardeners and authors Jean-Martin Fortier (JM) and Curtis Stone is set to offer the secrets of a replicable system for profitable, small-scale intensive growing of organic produce.
Waiheke based tour organiser James Samuel, a promoter of healthy local food systems, is organising the tour following the success of last year's Beyond Organic NZ Tour which had permaculture orchardist Stefan Sobkowiak, also of Canada, running workshops throughout the country.
"I was astounded at the response to the tour with Stefan last year and realise that there is huge interest in small-scale intensive food production, and that there are 'rock-stars' in this space. New Zealanders are ready to for a more local, healthier, lower impact system. We just need to make it easy and show how it can be done."
Samuel says local food production is a sensible response to a growing awareness and unease with the multiple problems in the global-industrial food system. He is committed to promoting local food systems around New Zealand.
"If the global-industrial food system is contributing over 50% of the annual global warming emissions, and losing valuable soil at the rate of 25,000-million-tonnes every year, plus contributing only 40% of the global dietary need (with increasingly questionable food quality), while degrading our ground-level ecosystems, then it's time for a change," he says. "The good news is that building a healthy local food system is something we can all engage with AND it brings a multitude of benefits."
JM and Curtis will share with workshop attendees how to start a farming enterprise with minimal investment, and quickly harvest substantial volumes of healthy organic produce which in turn yields a fair and healthy livelihood for themselves and their families.  
Jean-Martin Fortier's farm generates revenues of $150k on 1.5 acres (6700 sqm). He started out his farming career in a tipi while raising a young child.
Curtis Stone makes over $80k per year on a third of an acre (1350 sqm), and over half that is profit. When he started he had no previous farming experience and made all his produce deliveries with a bicycle and trailer.
The Six Figure Farming NZ Tour begins in Dunedin on February 4 and finishes in Matakana on February 24.  More information about the tour and presenters  can be found at sixfigurefarmingnztour.com
GD Star Rating
loading...
GD Star Rating
loading...