Home » Blog, Featured
Riding Aotearoa on horseback for positive change
Submitted by Charlotte on February 3, 2016 – 1:36 pm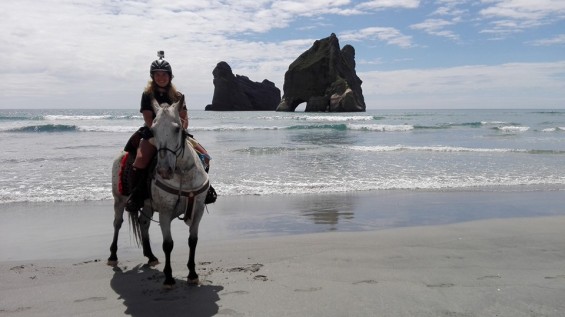 As I was dropping my husband Marty off to work today I passed a hot looking girl on a hot looking horse, resting on the side of the road.
"Oh look!  She's travelling on that horse!  I'm going to go and meet her and invite her to stay!  We have heaps of lawn"  I said to Marty.
Marty brought up the time I came home with a lamb, which, I reminded him, turned out great.
And so I zipped back and introduced myself.
Her name is Marie Palzer.  She's 21 years old, she was raised in Marahau, and she's travelling New Zealand on her horse Spirit raising money for Tear Fund.  While she's a country girl, she has just finished three years of training in Auckland as a Steiner teacher.
They'll be on the road for six months. Tomorrow they're crossing the Takaka Hill.  So if you see them, slow down and look friendly!
Marie and Spirit are working hard, so if you do come across them somewhere in New Zealand – ask her what she needs.  I asked her this question and she needed somewhere to repair a broken horse shoe – this I was easily able to offer.
Here's a post from her face book page:
"Day 7. Pakawau to Collingwood 14km
It was a strange feeling heading south knowing that im leaving this beautiful part of the country.
I had a slow morning and started to head south allong the beach which was so peaceful and Spirit was happy on the beach! I met a sweet 5 year old girl who insisted for me to wait while she went to her mum to get Spirit an apple and a me a glass of water. Sure enough she came back with arms loaded of treats and a donation, bless her!! When I went on the road I realised Spirits feet were a bit sore. So we went slow and Spirit grasses along the way. A stream of horse floats passed us and some stopped to have a chat which was lovely. We made it to Rosie and James place which is a slice of paradise, they have a huge impressive vegi garden and the most beautiful house. I went for a swim and sorted my things out in a cute little sleep out and Spirit had a huge paddock! I had a great evening and they even gave me some conntacts where I could stay when on the west coast!! Thanks so much Rosie and James!!"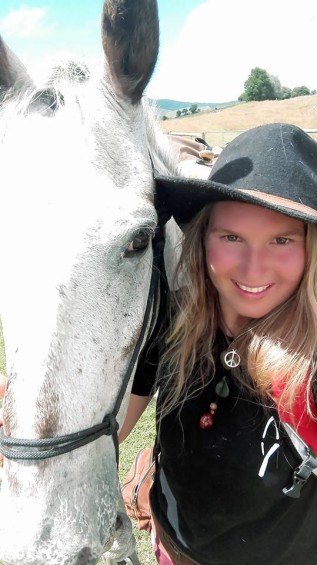 You can find her Facebook page here.
Her website Hoofing around for change is here. 
GD Star Rating
loading...
GD Star Rating
loading...