Home » Community
Happyzine Talks Nelson brings together inspiring locals this March – Line up
Submitted by Charlotte on February 15, 2016 – 3:46 pm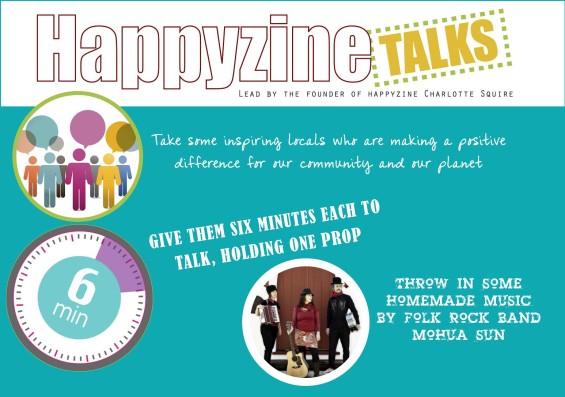 Happyzine.co.nz
We are really excited to announce the line up of inspiring people living in the top of the South Island who will be speaking at Nelson Happyzine Talks, Theatre Royal, Saturday March 5th, 7pm.
Happyzine Talks draw together inspiring locals to talk for six minutes each, holding one prop, about a project they're working on that's making a positive difference for their community.
The speakers are:
Dr Sean Weaver – saving rain forests
Peter Verstappen – turning Wakefield School democratic
Cara Christal – co-leading the Nelson Koha Shed
Ruth Copeland – maintaining authenticity as a Nelson City Councilor
Amy Kennedy – cleaning up the Matai River
Lolly Dadley-Moore – teaching body mindfulness to offset stress
Kindra Douglas – leading positive change in Victory Community
Jettie Skerten – linking volunteers with refugees, helping these newcomers make Nelson their new home.
We may have two more speakers to add to the line up soon.
Happyzine Talks are currently being planned for venues around New Zealand.
GD Star Rating
loading...
GD Star Rating
loading...
Happyzine Talks Nelson brings together inspiring locals this March - Line up

,
Tags: happyzine talks