Home » Sports
Christchurch Council seeks comments on university cycleway plans
Submitted by Charlotte on February 17, 2016 – 4:00 am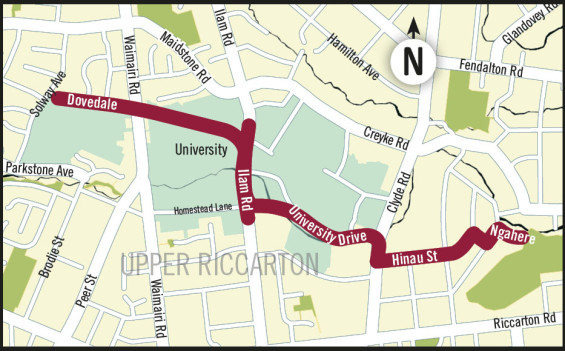 Christchurch City Council is inviting comments on plans for new cycleways that include traffic lights, shared paths and slow streets where people travelling in cars and on bikes share the road.
Designs showing how the Council proposes to build a substantial part of the Uni-Cycle route are open for public comment. The section being consulted on runs from Riccarton Bush through the University of Canterbury campus, ending at the intersection of Dovedale Avenue and Solway Avenue. The plans are available online at ccc.govt.nz/haveyoursay
"These plans bring us closer to the completion of the Uni-Cycle route, along with the soon-to-be-built cycleway alongside Christchurch Boys' High School which will connect with the existing cycleway on Matai Street," explains the Council's Transport Operations Manager Steffan Thomas.
The consultation booklet includes designs for public and private land, such as through the University of Canterbury campus.
"The University has given significant support to the project and agreed to allow the cycleway on its land. Now we need to know what people think of the proposals so that we can be sure we're delivering the type of cycleways the community has asked for," Mr Thomas says.
Key points of the proposed changes:
A low-volume, slow traffic environment along Ngahere, Hinau, Totara and Miro streets, where people travelling by bike and in vehicles share the road.
A crossing on Clyde Road along from the Hinau Street intersection and a shared two-way path on the west side of Clyde Road to University Drive.
A new two-way cycle path that is three metres wide on the south side of University Drive from Clyde Road to Ilam Road.
Upgrading of the existing separated cycleways on Ilam Road between University Drive and the entrance to Ilam Fields.
Shared pedestrian and cycle paths across Ilam Fields and on Dovedale Avenue
"There are many ways for people to get involved," Mr Thomas says. "People can look at the plans online at ccc.govt/nz/haveyoursay or come along to talk to staff in person. Between 3.30pm and 5.45pm on Tuesday 16 February we'll have the consultation plans on display at Ilam School Hall, and staff will be there to answer questions. "
GD Star Rating
loading...
GD Star Rating
loading...
Tags: christchurch, cycling