Home » Featured, Headline, Youth
Kiwis living with dementia play part in school kids' environmental education
Submitted by Charlotte on February 18, 2016 – 4:00 am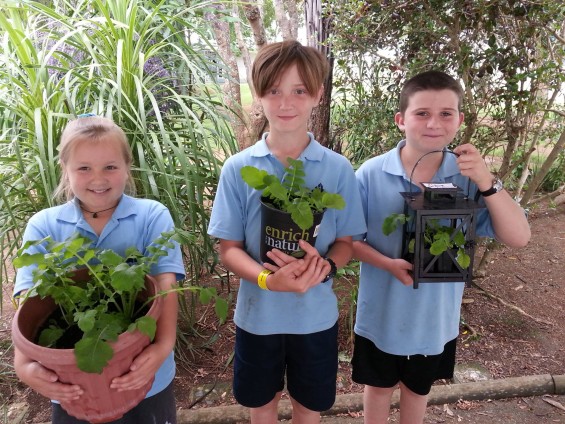 A group of Alzheimers Auckland socialisation members have been putting their skills to use, creating thousands of paper planting pots for mobile environment classroom, Tread Lightly Caravan, to teach important messages about sustainability to local South Auckland children.
For almost a year, Alzheimers Auckland has been working with another not-for-profit, Manukau Beautification Charitable Trust, using their facilities to host activities like arts and crafts and morning tea, encouraging people living with dementia to stay engaged with life and keep busy, while also doing good for the community. The next project off the rank will assist thousands of school kids in learning about our all-important environment.
"We're hugely thankful for the relationship we have with Manukau Beautification. We have access to some really great facilities at their site. It allows people living with dementia to get together, bond and enjoy their time with like-minded people, showing them that life is still fun and full of great moments," says Barbara Fox, Operations Manager of Alzheimers Auckland.
Since the charity duo paired, they've been a part of plenty of do-good initiatives, including creating more than 2,000 flags to be used on cupcakes for White Ribbon Day. They also made thousands of big white cardboard ribbons to support a recent stand for violent-free homes, in Britomart. The idea behind such activity is to provide engaging and creative tasks that are intellectually and physically challenging, while doing something meaningful.
Now the group of eight have their minds set on a long-term project to create six thousand origami newspaper seedling pots to meet the demands of the four to six thousand children seen by the Tread Lightly Caravan each year. Starting with St Johns The Evangelist School in Otara, on Wednesday, 17 February, 300 children are expected to take part in the Tread Lightly Caravan's "Great Veggie Project", using the newspaper pots to plant radish seeds as a way of encouraging children and their families to grow their own vegetables at home.
Andrea Kendall, Tread Lightly Caravan Operations Manager, says "The newspaper pots, as provided by Alzheimers Auckland, are a valuable asset for teaching children about planting and the environment, as they consistently deliver our eco-friendly messages. Often kids will bring a plastic container or pot from home that isn't recyclable, but the paper pots are bio-degradable and perish naturally in the garden, meaning kids can plant in the pots with us at school, then plant them straight in the ground at home, as the roots just grow through."
"We thank the members of Alzheimers Auckland in making them for us as we simply don't have the time during the sessions to teach kids to make the pots themselves," says Andrea.
Each week, Kelly Priest, co-ordinator of the Alzheimers Auckland socialization group, supports participants in a variety of ways, including transportation and communication.
Kelly shares, "Projects like the seedling pots are perfect for the group – it's a good challenge for them to put their mind to and it's also incredibly rewarding knowing what they are doing is directly benefiting the community nearby."
The Alzheimers members have also worked with Howick Rotary to help paint and put the finishing touches on 27 handmade wooden train sets for children and families in need, gifting them to Starship Hospital and doctor and hospital waiting rooms – another example of their commitment to helping contribute to the community while living with dementia.
Other activities Manukau Beautification Trust has to offer include; cooking, art-making, knitting and special men's groups. Year-round, Alzheimers Auckland operates 21 socialisation groups across Auckland each week and is currently supporting more than 1,600 people living with dementia.
GD Star Rating
loading...
GD Star Rating
loading...
Tags: Alzheimer''s, Environment, kids, Youth