Home » Community
Meet our Nelson awesome Happyzine Talks speakers for March 5th, Theatre Royal!
Submitted by Charlotte on February 19, 2016 – 8:34 pm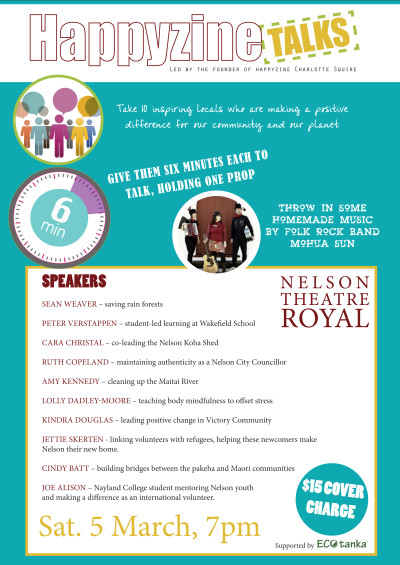 Hi, I'm Happyzine founder Charlotte Squire.  I'm really proud and excited to have locked in ten inspiring speakers, from diverse sectors of community, who are contributing in the most amazing ways to our world – for Nelson Happyzine Talks (with more planned this year for other parts of NZ). If you live or know people in Nelson, please, please spread the word as it's happening in two weeks at the gorgeous Theatre Royal!
Meet the speakers:
Sean Weaver – saving rain forests
Peter Verstappen – student-led learning at Wakefield School
Cara Christal – co-leading the Nelson Koha Shed
Ruth Copeland – maintaining authenticity as a Nelson City Councilor
Amy Kennedy – cleaning up the Matai River
Lolly Dadley-Moore – teaching body mindfulness to offset stress
Kindra Douglas – leading positive change in Victory Community
Jettie Skerten – linking volunteers with refugees, helping these newcomers make Nelson their new home.
Cindy Batt – building bridges between the pakeha and Maori communities
Joe Alison – Nayland College student mentoring Nelson youth and making a difference as an international volunteer.
Feedback from Golden Bay Happyzine Talks – which more than sold out!
"Treat yourself to Happyzine Talks for an awesome night of inspiration, music and heart singing joy," Tess James, Golden Bay.
"I thought I knew a few of the speakers quite well but I was in for a surprise! The speakers shared inspirations, funny stories and some profound, life changing insights," Claire Webster, Golden Bay.
"I loved being part of this community, solution focused, inspiring and fun event," Jo Campbell, Golden Bay.
See you there Nelsonians! Tickets are $15 – buy them here:
http://www.theatreroyalnelson.co.nz/show/happyzine-talks/
GD Star Rating
loading...
GD Star Rating
loading...
Tags: happyzine talks, nelson, whakatu