Home » Club Happyzine, Featured
Join the Kea Group and go in the draw to win a Trekka Tanka
Submitted by Charlotte on February 23, 2016 – 9:25 pm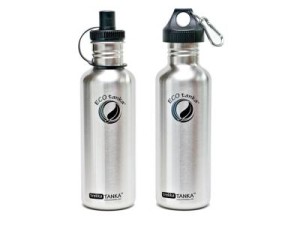 Get your two litres of water per day in the ECOtanka Trekka Tanka.  We have two of these useful drink bottles to giveaway.
To go in the draw – join the Kea Group and join the Happyzine community.
THE TREKKA TANKA holds 1 litre (4 standard size glasses), it provides a little more volume than a regular bottle, but without the extra bulk.
Trekka tankas fit all of the standard ECOtanka lid range and the trekka size KOOLER covers.
Care Instructions:
ECOtankas are very easy to care for, simply wash and rinse as you would your dishes.   Alternatively, baking soda and warm water can be used to cleanse and freshen your bottle.  They may be steralised with boiling water. Please do not place in the freezer.
Stainless Steel brush finish bottles can be put in your dishwasher for easy cleaning.  Painted bottles CAN NOT be put in a dishwasher.
Summer Tip:
For a drink that stays cool for hours in the summer, fill your bottle with ice cubes, top with water then fit a kooler cover.  All ECOtanka bottles have a special wide mouth, allowing ice cubes to be used for an instant cold drink.
1 Year Warranty
All ECOtankas are solid 304 high quality stainless steel food grade and have a 1 year warranty against faulty manufacturing.
Go to: ecotanka.com for more info or buy at an organic shop or health store near you.
GD Star Rating
a WordPress rating system
GD Star Rating
a WordPress rating system
Tags: trekka tanka