Home » Community
Papamoa college kids come up with new beach toy library for their community
Submitted by Charlotte on February 28, 2016 – 4:00 am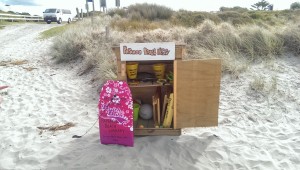 The Bay of Plenty Times reported that a group of Papamoa College students have created portable beach toy libraries for local beaches.
Large wooden boxes were constructed in technology class, the call was put out to the school for beach toys, and the library was created.  Local businesses also supported the project.
The students were asked to come up with the concept that benefited the community.
The idea is for people who didn't bring their own toys to the beach, to use them, then put them back.
GD Star Rating
loading...
GD Star Rating
loading...