Home » Environment
Water, water everywhere at Auckland environmental expo
Submitted by Charlotte on March 3, 2016 – 4:00 am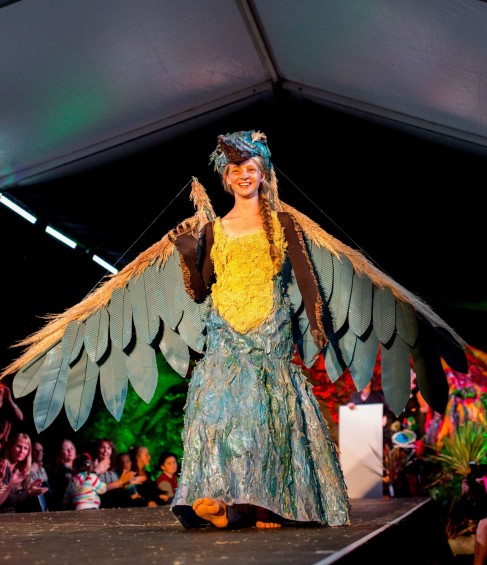 Manukau Beautification Trust
Explore an interactive cave, get to know your fish, create origami seabirds, make your own rain and navigate a bush walk in the company of water creatures… an enchanting educational event awaits Aucklanders.
The Auckland Botanic Gardens is set to welcome thousands of school children and families to this year's Eye on Nature environmental expo at the beginning of April. The 2016 theme 'Water for Life – Cool, Clear, Clean', aims to encourage young people to become custodians of New Zealand's waterways and its life forms.
Environmental organisations from around New Zealand are partnering with the Manukau Beautification Charitable Trust (MBCT) to host the event, which is supported by the six Auckland Southern Local Boards, Auckland Council and Auckland Botanic Gardens.
The week-long event will be attended by 1500 primary-aged children from South Auckland schools, culminating in a free Family Day on Saturday 9th April. Open to all Aucklanders, the Family Day will present a myriad of events and activities to entertain and educate young minds. In addition to the hands-on activities offered by Eye On Nature's programme partners, New Zealand's very own 'Wild Boy' Brando Yelavich will share insights into his epic journey walking New Zealand's coastline. One lucky family will also walk away with a free family pass to the new Wero White Water Park as part of a Family Day giveaway.
During the Family Day, budding chefs will demonstrate their skills in the 'Out of the Water into the Frying Pan' cooking competition, with high school students competing 'Masterchef' style watched-on by the judges and public. The day concludes with the popular Wearable Art fashion show where entries from schools across Auckland will be modelled and winners announced.
Throughout the week educator-led sessions, facilitated by the Trust's 30 plus environmental partners, will engage students on their journey to learn more about 'Water for Life'.
With event partners Sustainable Coastlines and Roots Creative Entrepreneurs, 1500 primary students will transform recycled plastic drink bottles into self-watering hanging gardens.  These will be suspended on three giant 'C' sculptures symbolising the event's acronym 'CCC'. The resulting living sculptures will be showcased at the Family Day.
Environmental partner, LegaSea, will focus on fishing for abundance by not wasting the lives of fish, not putting waste into the fishing environment, and not wasting edible parts of the fish. Students and Family Day visitors will learn about fish identification, fish handling, and eliminating waste from fishing trips as they grow to understand how their actions impact New Zealand's precious marine resources.
Auckland Botanic Gardens, Waicare, Auckland Parks and Auckland's Biodiversity & Security Team will take the primary students on an interactive bush walk to explore the 'Cool, Clear & Clean' concept, assisted by water creature props they'll encounter along the way. An interactive catchment model by the MBCT will help children understand the impact of water on our landscape, as they pour water into the display and watch what happens.
The event will also introduce 'QuestaGame' (see http://portal.questagame.com/) – an online environmental adventure game based on wildlife sightings. Family Day visitors can test the engaging new game, which gets players outdoors to discover and help preserve life on this planet. The game is being applauded overseas for its ability to help protect biodiversity through taxonomy training and species mapping. Questagame will be introduced at Eye on Nature with two biodiversity competitions; a month-long Biodiversity Challenge for Auckland schools, and a one-day public Biodiversity Quest where players battle to gain the highest score for species sightings in the Botanic Gardens.
Family Day visitors can also find out more and sign up for the attempt to set the record for the 'Largest single environmental clean up in NZ'. Focusing on the Puhinui Stream to the foreshore, the Trust and partners hope to draw 2,000 – 3,000 volunteers to clean up the stream and set the country's first official record of its kind on Saturday 30th April.
Graeme Bakker, Manukau Beautification Charitable Trust GM, says this year's Eye on Nature event provides an exceptional opportunity for the whole family to learn more about the importance of water in our lives, while having fun taking part in all the activities on offer.
"At this year's Eye on Nature we want to highlight the importance of caring for our streams and waterways. Through the environmental activities we will teach children and their families about the positive actions they can take to ensure our waterways remain cool, clean, and clear," explains Mr Bakker.
Eye on Nature takes children and their families on an interactive journey, learning how their actions help or harm our streams and harbours. The MBCT and its partners will send visitors home fully armed with knowledge about the correct disposal of litter to minimise impact on our waterways, the impact of urban pollution in South Auckland through to the harbour, the importance of trees for shade and water quality, the different sea creatures that live in our streams, and the importance of a healthy habitat for creatures that live in our waterways.
GD Star Rating
loading...
GD Star Rating
loading...