Home » Blog
Nelson Happyzine Talks kicks off tomorrow night at Theatre Royal!
Submitted by Charlotte on March 4, 2016 – 6:51 pm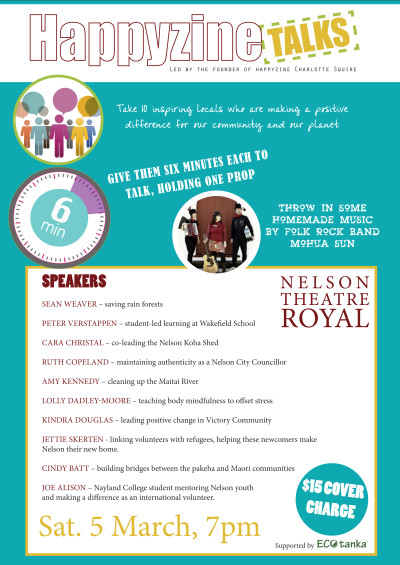 Need some inspiration?  Come and meet the people behind Happyzine at Happyzine Talks in Nelson tomorrow night.
Happyzine Talks is happening Saturday March 5th, Theatre Royal, 7pm. Entry $15 at the Nelson Theatre Royal.
Door sales are available from 6pm, or you can buy tickets online here: http://www.theatreroyalnelson.co.nz/show/happyzine-talks/
Nelson Happyzine Talks speakers:
Sean Weaver – saving rain forests
Peter Verstappen – student-led learning at Wakefield School
Cara Christal – co-leading the Nelson Koha Shed
Ruth Copeland – maintaining authenticity as a Nelson City Councilor
Amy Kennedy – cleaning up the Matai River
Lolly Dadley-Moore – teaching body mindfulness to offset stress
Kindra Douglas – leading positive change in Victory Community
Jettie Skerten – linking volunteers with refugees, helping these newcomers make Nelson their new home.
Cindy Batt – building bridges between the pakeha and Maori communities
Joe Alison – Nayland College student mentoring Nelson youth and making a difference as an international volunteer.
GD Star Rating
loading...
GD Star Rating
loading...
Tags: happyzine talks