Home » Featured, Green technology
Charlotte Squire checks out the Tiny House movement
Submitted by Charlotte on April 18, 2016 – 4:00 am
When I was little I dreamed of living in a gypsy wagon. They seemed so romantic and cosy and I loved how every inch of the homes had a purpose.  Surplus children could even sleep in open draws!
The tiny house movement excites me just as much (although children don't appear to be sleeping in draws).  It appeals to me as a solution to many challenges we face here in New Zealand – due to its small ecological footprint, its tight, efficient design, its the low cost.
A Riwaka based couple have left corporate jobs in Wellington and taken six months out to build their very own tiny house on family land. The house is roughly the size of a double decker bus. It will feature all the usual parts of a house, with the upper area being used for sleeping. They say the entire space will be slightly larger than the apartment they lived in in Wellington.
Paul McGregor and Ellie White bought the building design from an Auckland couple who built a tiny house built to live in while they build a larger house.
Right now Paul and Ellie are working through the last steps of weatherproofing their house.
"We're just putting up our cedar weatherboards. Once we're finished with that, we'll put up battens for our board and batten lower half and frames around our windows," said Paul.
Paul, who trained as a lawyer dealing also with homebuyers in Portland, said the regulations for tiny houses are blurry in New Zealand.  While the movement is well established globally, it's only just finding its feet here.
"We're following the NZTA's (New Zealand Transport Authority) regulations for a light trailer. So that says it must be less than 2.5 wide, 4.2m high, 12m long and less than 3.5 tonne. We're basically just building a self-contained caravan, but with traditional timber framing rather than your standard fibre-glass caravan."
Their home is 2.4 metres wide, 7.2 metres long and 4.2 metres high.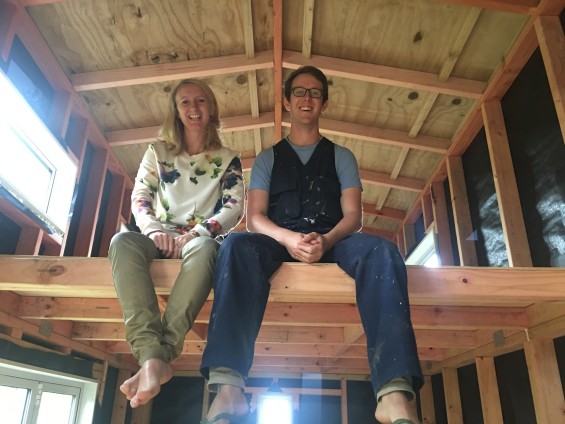 Like any exciting house build, the couple have already blown their budget.
"Originally, we budgeted $25,000 for the entire build …We now realise that $25k was hopelessly unrealistic! It'll probably cost more like $40,000. Of course, that's just for materials. We're not counting the cost of our time spent on it, as it's a labour of love. We're trying to source second-hand materials where possible so TradeMe is our best friend," said Paul.
They're using a box staircase for storage, as well as space under their living room couch.  The same couch can also be turned into a spare bed.  They have two lofts – one large loft for their bedroom, and another for a future child.
They've planed for a washing machine and a dishwasher in their full kitchen.  They will use gas for cooking and water and plug into mains just like a motorhome would.
"Our toilet system will initially be a simple bucket composting toilet. Yep, you do your business on a toilet seat as normal. And then throw on a scoop of sawdust and bokashi fertiliser. The sawdust hides the smell and the bokashi starts the fertilisation process," said Paul.
One of the biggest lessons Paul said they've learned so far is realizing "we're actually capable of doing this. Of building a house!"
While many people get very excited when Paul and Ellie explain their project, others look at them and ask "why?"
"We wanted to own a house, and we wanted to have an adventure. We both graduated university and went straight into the workforce, myself as a policy advisor at the Ministry of Justice and Ellie as a primary teacher, and we were both craving an adventure while we're still young. We were looking at buying a house, and were a bit scared of how big a mortgage we would have to get. So this was an alternative way of having a house of our own," said Paul.
Other reasons for their build were: owning less stuff, being portable, and owning an off the grid house which is less vulnerable when essential services are cut off.  Ellie saw the benefits of her parents owning an off the grid house in Christchurch after the quakes.
So what do local governments say about this here in New Zealand?  I asked my local Tasman District Council.  To generally answer the question of whether a structure needs building consent or not Tasman District Council coordinator building consents Phil Beck said he would consider whether the structure is "moveable or immovable." He said if it has an axel, wheels and a tow bar it is moveable and is considered to be a caravan.  This means it doesn't need a building consent, though he wasn't sure about resource consent.  He said these questions are being asked all around New Zealand and you can read case studies at building.govt.nz
Paul and Ellie aren't they're not sure where they'll park their home.  They intend to rent a spot on someone's property.  They hope to complete their house this winter.
"Long-term, we will eventually grow out of the tiny house, what with kids and all that. So it'll be our house for the next couple of years, and then maybe we'll start renting it out, or it will be a holiday house for our families somewhere. Either way, we will certainly keep it forever!"
To follow Paul and Ellie's tiny house adventure go to https://www.facebook.com/TinyTossHouse
GD Star Rating
loading...
GD Star Rating
loading...
Tags: tiny house