Home » Community, Featured
Pledge now – Save our Seeds – Doco will teach people exactly how to harvest, process and store their seeds
Submitted by Charlotte on April 21, 2016 – 10:37 am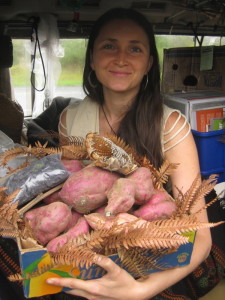 In 2013, a team of New Zealand permaculture educators hit the road for an ambitious teaching and filming tour: the Localising Food Project. They captured the stories of 250 different local food initiatives on video.  Now, they're distilling a series of documentaries aimed at disseminating successful local models, and inspiring a more self-sufficient, food-resilient nation.  The four part series 'Growing Schools' has just been released and is already attracting international interest.
Head to Pledge Me to support this project here.
With the rapidly increasing global ownership and scientific tampering with the integrity of seeds, as well as the legislative implications of NZ's Food Bill and the looming TPPA, 'S.O.S: Save Our Seeds' has been prioritised as the next documentary to be worked on.
According to the UN Food and Agriculture Organisation over 90% of our vegetable varieties have been lost over the last 100 years. With 95% of the seeds available for purchase in this country being imported from overseas, the diversity and availability of our daily food is endangered. So now our hope lies in community-scale seed saving systems to propogate and protect seed for future generations.
The Localising Food Project has captured dynamic video footage of inspirational models of seed swaps, seed exchanges, seed libraries, seed banks, and family seed businesses, in order to teach you how to easily replicate these processes in your community.
This educational documentary will show, step by step, how to select, process, store, distribute and propagate seeds – so that each of us can play our part in ensuring the survival of our seeds, now and for our children's children.
Your support will help us towards covering the costs of producing this S.O.S. documentary. Money raised beyond this target will assist with promotion and distribution.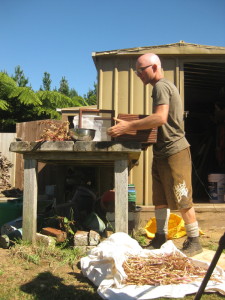 About The Localising Food Project
The Localising Food Project is an initiative of the Institute of Earthcare Education Aotearoa, a New Zealand registered charitable trust, whose objectives include Empowering Communities through Local Food Resilience. All work done to date has been achieved by the generosity of private donations and many thousands of voluntary hours of our dedicated team.
Visit our website localisingfood.com to find out more about the project, view some of our short film stories and download our recently completed 'Growing Schools' documentary.
Vsit our facebook page, sign up for our newsletter to stay in touch with our flourishing localising food community. Also please 'Like' and 'Share' our work and this campaign through your social media – many thanks!
Head to Pledge Me to support this project here.
GD Star Rating
loading...
GD Star Rating
loading...
Tags: Aotearoa, crowd funding, food security, pledge me, seed saving