Home » Community
Attitude calling out for challengers
Submitted by Charlotte on May 21, 2016 – 4:00 am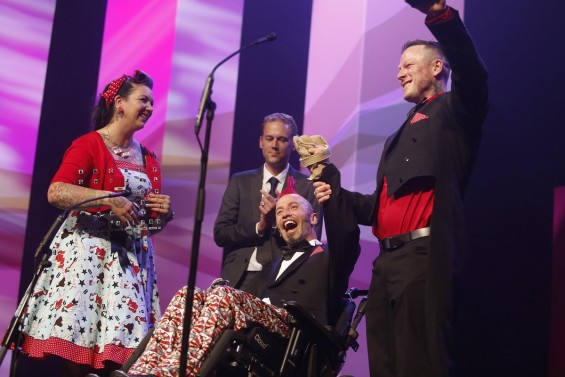 Attitude Award winner Nick Chisholm and his wife Nicola are heading to the United States – to try and get pregnant.
The couple need an egg donor to help fulfil their dream of having a child and time is running out. The queue in New Zealand is just too long.
For Nick, who won his 2015 Attitude Award for his incredible journey from being 'locked-in' his own body to becoming a body building champion and supporting others with disabilities, this is just another challenge for him and Nicola to meet.
While they head to the US, the Attitude Trust is starting the search for more people like Nick for this year's Attitude Awards – people who are challenging perceptions around disability.
Dan Buckingham, chair of the Attitude Trust says there are hundreds of New Zealanders who have incredible stories of courage and human kindness.
"We would really encourage people to nominate members of their family, friends and people they know from their communities who deserve recognition, for a 2016 Attitude Award," Buckingham says.
Nick says being a part of the Attitude Awards gave him a huge amount of confidence and motivated him to do more to help others.
"You become part of an awesome group of people who inspire and give you the enthusiasm to continue working hard to achieve your goals."
Now in their ninth year, the 2016 Attitude Awards have four new categories: Youth Spirit, Emerging Athlete, Sporting Spirit and an Entrepreneur Award. There is a total of eight awards categories (subs note: full list of categories below), with the Attitude ACC Supreme Award selected from the category winners.
ACC Chief Executive, Scott Pickering, says ACC is proud to be principal sponsor of the awards, including sponsorship of the Attitude ACC Supreme Award and the Attitude ACC Employer Award.
"At ACC we are forever inspired by the energy, commitment and attitude of those recovering from an injury, living with a disability, supporting a friend, partner or family member. Go for it. Nominate someone for these prestigious awards."
Other sponsors supporting the Attitude Awards include Lion Foundation, Manawanui in Charge, Barfoot and Thompson, Westpac, Drake Medox, Ministry of Health, Wayne Francis Charitable Trust, Air New Zealand, Ricoh and New Zealand on Air.
The Attitude Awards are inspired by the positive stories shown weekly on TV One's Attitude programme (8:30am Sundays).
For nomination information and entry forms go to AttitudeLive.com/awards. Nominations close on Wednesday July 8 and finalists will be announced soon after. Winners will be announced at a black-tie gala for more than 600 people on November 29 at Auckland's ASB Showgrounds.
The eight categories are: Youth Spirit, Spirit of Attitude, Emerging Athlete, Sporting Spirit, Artistic Achievement, Making a Difference, Entrepreneur and Attitude ACC Employer Award.
GD Star Rating
loading...
GD Star Rating
loading...
Tags: attitude awards