Home » Maori
Waikato-Tainui seek to boost reo speakers from 31% to 80% by 2050
Submitted by Charlotte on June 13, 2016 – 4:00 am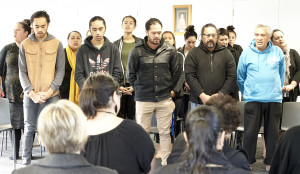 A partnership between Waikato-Tainui and the Waikato Institute of Technology (Wintec), will be the driving force behind a new programme to increase fluency in Waikato-Tainui dialect of te reo Māori.
He Reo Aratau Certificate in Te Reo and Tikanga Māori (Waikato Tainui), is a 12-month training scheme developed by Waikato-Tainui that will be delivered by Wintec, as part of the tribe's 25-year strategy to lift fluency in Waikato reo me oona tikanga for tribal members from 31% to more than 80% (or 50,000 speakers) by 2050.
"A key principle for Waikato-Tainui is that whānau is at the heart of lifelong learning so initiatives like He Reo Aratau, are one of many platforms we are extremely excited to see come to fruition," says Waikato-Tainui CEO Parekawhia McLean.
Following the successful launch in 2015 of Ko te Mana Maatauranga, the tribe's strategic education plan and the signing last month of a kawenata (covenant) with local Waikato secondary schools, 13 secondary students (all tribal members) began the programme in late May.
"Ensuring educational success and empowering people to pursue meaningful pathways, is a common goal we share with many of our partners including Wintec. We as a tribe are committed to support all our tribal members to access educational opportunities throughout their lifetime," adds Parekawhia.
Wintec's Director of Māori, Hera White, says she's delighted to be working with Waikato-Tainui on this important initiative and excited to see its impact over the coming years.
"Māori achievement is a strategic priority for us and keeping te reo alive, encouraging understanding of tikanga and connectedness with marae are all important parts of that," she says.
Wintec have engaged leading Waikato-Tainui reo exponents who will continue to develop and teach the programme, with learning taking place on different marae around the Waikato-Tainui region. Participating schools include Te Wharekura o Maniapoto, Te Wharekura o Ngā Purapura o Te Aroha, Ngā Taiātea Wharekura and Tai Wānanga.
Further information about the programme is available by making direct contact with Maehe Paki, Reo and Maatauranga Project Advisor, 0800TAINUI.
GD Star Rating
loading...
GD Star Rating
loading...
Tags: Maori, Waikato-Tainui