Home » Music
Youth festival brings Pitch Perfect music-maker and the joy of a cappella to New Zealand
Submitted by Charlotte on June 22, 2016 – 2:03 pm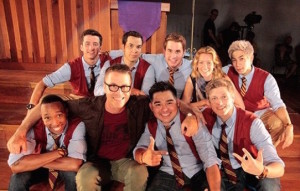 Have you ever wished you were a member of Pentatonix or the Barden Bellas from Pitch Perfect? Now's your chance to discover how that feels!
The Pan Pacific Youth Harmony Festival is a brand new festival celebrating all things a cappella – from 13–14 July 2016, the festival will take over the Aotea Centre with workshops and concerts, as well as competitions for both barbershop quartets and a cappella groups.
For the first time ever in Auckland, attendees will have the chance to learn from Deke Sharon, the "father of contemporary a cappella." Producer of The Sing Off, music arranger for the film The Social Network and arranger, on-site musical director and vocal producer of Pitch Perfect and Pitch Perfect 2, Deke has worked with everyone in a cappella from Pentatonix to Anna Kendrick, as well as founding several a cappella programmes.
"Educating and mentoring youth through music and performance always has a positive impact," says Deke. "I love that this festival encourages everyone to participate in a cappella by breaking down barriers – both economic and social – to music. It celebrates the real joy that can come from singing together."
By attending, you'll see first-hand the talent that makes Deke the father of a cappella on Wednesday 13th July, and enjoy a once-in-a-lifetime opportunity to spend one-on-one time with Deke on your own arrangement in his arranger's masterclass at 10am. You'll also have the chance to discover harmony singing at an introduction to a cappella at 4pm or learn huge amounts at his a cappella masterclass at 7pm.
Taking part in both the workshops and the competitions is a great opportunity for the New Zealand community to come together and celebrate the talent of those involved. With a focus on fun, enthusiasm, and building confidence, the festival encourages everyone to take part, no matter their skill set.
Young people will compete over the two days of the festival, and the public can come along to see the best of the best at the Showcase of Champions at 7pm on Thursday 14th July.
Whether music students, music educators or simply music lovers, the Pan Pacific Youth Harmony Festival will help attendees discover just what they're capable of while learning from the best in industry – the perfect school holiday activity for young musos!
To find out more about the Pan Pacific Youth Harmony Festival, or purchase tickets, please visit
GD Star Rating
loading...
GD Star Rating
loading...