Home » Blog, Featured
The sexy stormwater issue and why we need to see it as a resource here in NZ
Submitted by Charlotte on July 14, 2016 – 4:00 am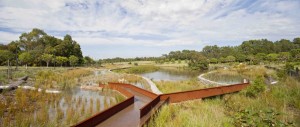 By Charlotte Squire
Storm water run off. These are about the least sexy words girl could use to start an article. And yet here I am bringing you news of an exciting solution to a Kiwi problem, thanks to our neighbours in Sydney and a forward thinking council worker here in New Zealand.
A Sydney Park project that cleans and reuses the equivalent of 340 Olympic-sized swimming pools of local stormwater runoff a year has just been honoured with a 2016 Good Design Award.
The City of Sydney water re-use project harvests and treats up to 850 million litres of stormwater from one catchment each year. The water is used to irrigate the 44-hectare parkland and supply water to a neighbouring depot.
So, what exactly is storm water? NIWA (New Zealand's National Institute of Water and Atmospheric Research) defines it as the water runoff from urban surfaces generated by rainfall or melting snow. They say stormwater is a major concern for New Zealand because of its potential effects on the ecological health of our urban streams and coastal waters, as well as on the economic, social and cultural value of these areas.
Most of us don't even think about storm water drains. They're certainly not something I lie awake pondering.
But one lady, right here in my Golden Bay community, thinks they're an exciting, untapped opportunity. Tasman District Council Education and Partnership Officer Claire Webster thinks we need start looking storm water as a resource, just like Sydney are.
"Traditionally we didn't have a whole lot of impermeable surfaces on our property, and in cities 90% of the surfaces are impermeable. So when it rains all that water goes into storm water drains, gutters, pipes and it gains velocity as it goes. Here in the Takaka township we don't really have a good continuous storm water system.
"At my house when it rains it gets collected in gutters, then it goes down pipes and into a big hole that was filled with gravel, from there it drains back into the groundwater. I love this system," she said.
Claire encourages people to think about how to get more permeable surfaces on their properties, such as plastic guards for their driveways that allow grass to grow through holes. People can still mow over them but they're hard enough that people can drive on and the rain can soak into the ground.
She also suggests people look into rain and swale gardens – where the storm water can be kept on the properties and used as a resource.
"You could plant things that like wet feet and trees just above it, so that their roots grow under the wet area."
She said nationally there are moves being made to slow down the velocity of water as it moves towards the sea, such as "daylighting" steams. This is where open water ways are created on land, rather than being run beneath the earth via culverts.
"In cities where they've daylighted streams, for the properties that have a boundary onto the streams, the property values have risen because people are planting natives and trees along the banks. It creates community too – people have something to care for jointly."
Claire said in Australia water is a more precious resource then here in New Zealand.
In Sydney's award winning project they've turned storm water into an art form.
The elevated terracotta pipes that release the cleansed water into the park's main pond are now a popular waterscape feature for visitors.
The project has won the Museum of Applied Arts and Sciences category in the Good Design Awards – a prize given to products that have the potential to make a significant improvement to the quality of health, wellbeing or the environment.
"This is the City's biggest environmental project to date and brought together design, science and sustainability to create a significant new piece of green infrastructure," said the Lord Mayor of Sydney Clover Moore.
"It not only improves overall water quality and habitat, it also educates residents and visitors on the importance of water management by allowing park visitors to connect to the concept of water capture and cleansing in a beautiful setting."
Under the water harvesting plan, stormwater is captured, stored and then treated to deliver a new sustainable water supply to the wetlands, Sydney Park, and potentially for nearby industrial use. There is also potential for other water users across the local area to access the clean water.
The two year project was completed in October 2015. The Sydney Park upgrade cost $11.2 and was co-funded by the City and the federal government.
Sustainable cities such as Sydney, and forward thinkers like Claire Webster, are lighting the way forward for innovative storm water management here in New Zealand. It's a subject you could lie awake pondering for hours.
GD Star Rating
loading...
GD Star Rating
loading...
Tags: stormwater