Home » Youth
Outlook for Someday film comp helps Kiwi youth focus on sustainability
Submitted by Charlotte on August 2, 2016 – 4:00 am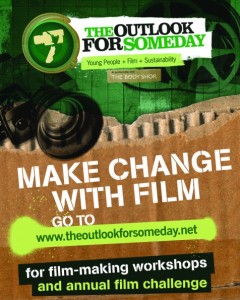 What does sustainability mean to you?
Since 2007 The Outlook for Someday has received over a thousand answers to that question by young New Zealanders entering its annual film challenge.
Now in its 10th year The Outlook for Someday is Aotearoa's New Zealand's sustainability film project for young people. It aims to empower a generation of film-makers focusing on the good of humanity and the world.
For young New Zealanders aged up to 24 the annual Someday Challenge is to make a sustainability-related film of any genre, filmed with any camera and any length up to 5 minutes.
"The heart of The Outlook of Someday is what Helen Clark this year called 'the potential of youth as a huge force for good in our world – when given the opportunity to contribute and engage,'" said David Jacobs, director of the project.
"It is unashamedly a values-oriented project. Young people care about the world we live in and how it affects them and their communities. If they can contribute and engage with sustainability values they can change the world for good."
The entry deadline for the film challenge in 2016 is 9 September.
20 winning films will be chosen by judges from media, education, government and business.
Also among the prizes for the film chosen as The Body Shop Standout Winner is a mentorship with Fraser Brown, producer of the multi-award winning Orphans and Kingdoms and a Someday Ambassador.
The film-maker or team behind each of the 20 winning films will be honoured at The Someday Awards red-carpet ceremony at Auckland's Aotea Centre in December.
As in previous years their prize package will include a commitment their film will be entered into at least one international film festival in 2017.
This prize continues to bring international acclaim for young New Zealand film-makers. In 2015 Te Ao o te Tuturuatu by Tomairangi Harvey won the Best Young Film-maker Award at the Japan Wildlife Film Festival.
In 2016 Message in a Bottle by Liam van Eeden and Jean-Martin Fabre is the first of the 2015 winning films to be nominated internationally – for the Green Screen International Wildlife Film Festival in Germany.
To enter the Someday Challenge go to http://www.theoutlookforsomeday.net/about/film-challenge
GD Star Rating
loading...
GD Star Rating
loading...
Tags: film, Sustainability, Youth