Home » Community
Out of the man cave and into the men's shed in Naenae
Submitted by Charlotte on August 8, 2016 – 4:00 am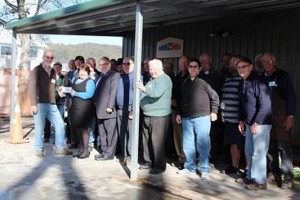 The MenzShed Naenae is a hive of activity, providing a space and tools for members to work either individually or together on projects.  The members focus on wood work, making wooden toys, providing firewood and doing "odd jobs" for the community.
Since its beginning in temporary premises in 2009 it now has a permanent home in a purpose-built shed and more than 90 members of all ages. The MenzShed is also attended by people with disabilities and provides courses for youth.
This charity's importance to both its members and the wider community has been recognised by Council, with $20,000 in funding allocated in the city's annual plan.
Councillor Barbara Branch and Mayor Ray Wallace recently presented the cheque to the MenzShed members at a morning tea. Mayor Ray Wallace said he enjoyed seeing the organisation's journey and the good work the MenzShed was doing in the community.
Councillor Branch recalled her concern about men in isolation, especially after retirement, and realised that they need an activity to facilitate companionship because, "unlike women, two men can sit together for hours and not say a thing."
After reading about a MenzShed in Australia she arranged a public meeting to establish one in her north-east community.  She has remained a strong supporter ever since and considers the MenzShed one of her proudest achievements as a Councillor.
Archie Kerr has been the co-ordinator of MenzShed Naenae from the beginning, and is central to its success.  He says support from Council has not just been financial "though of course that's welcome", but also from the enthusiasm and support of Council's Parks and Gardens team, including the building of a new shed in Treadwell Street next to the community hall, where the club now operates from.
The funding from the community, via Council, also secured $10,000 in Lotteries funding and will be used to complete the shed extension. Members have also pitched in $3,500 that will be used to purchase more machinery and equipment.
The Naenae MenzShed has inspired more MenzSheds across Lower Hutt and retirement homes are also considering the initiative.
GD Star Rating
loading...
GD Star Rating
loading...
Tags: men shed